Coming from the Gonaïves, you have to take the road of Anse Rouge and then Bombardopolis.
You will travel across a non-asphalted road, from where you will enjoy the most beautiful landscapes of the Haiti's down North-West specific ecosystems, through cactuses till green shelves.
Three options from Anse Rouge (2 to 4h)
Unique Landscapes ~ rocky road & little bit tiresome - The one to pass through if there are big rainfalls
Pass Anse Rouge straight then via Baie de Henne and Bombardopolis to arrive Môle
Alternative road ~ longer in kilometers and time
Turn on your right after Anse Rouge's police station. 1 km after the exit of the town, go on your right at the Y crossroads to pass via Jean Rabel then Marouge and Môle
Preferred itinerary ~ shorter in time but full of mud after heavy rain
Same as for Jean Rabel, but at the Y crossroads take on your left the direct road to Mare Rouge and then to Môle. This mountain road can be muddy, but it is the shorter in time.
From Cap Haïtien you have two choice :
Through Gonaïves ~ minimum 8h
Through Le Borgne and Port de Paix ~ 8-10h
In Limbé turn on your right to Port Margot go forward to le Borgne, Anse à Foleur, Saint Louis du Nord then Port de Paix on a mountain road with beautiful landscape (very difficult road after and during heavy rain, muddy, strong slope and fording, 4WD required). Expect 3h to pass Jean Rabel then Marouge and arrive in Môle.
Whatever your choice, it is better to leave Port-au-Prince or Cap Haïtien early with a good vehicle, in order to make the 7 to 9 hours drive serenely and enjoy a good swim in the sea under the sunset when you arrive...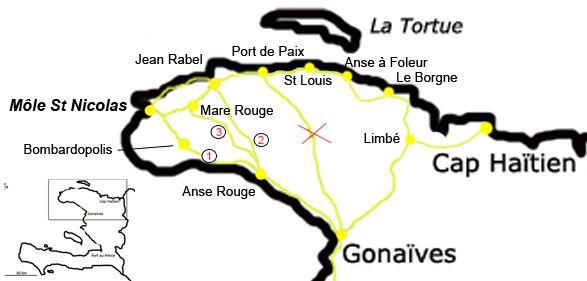 Download the road map of Bas Nord-Ouest in high definition
A guarded parking
is available on site.
If you don't have your own vehicle
Buses go to Môle from Port-au-Prince every tuesday, wednesday, friday and saturday. They leave at 6h am in front of the SONAPI industrial parc ("carrefour trois mains"). It is possible to enter the bus in Gonaïves (8h am in "station Bois d'Homme").